Thomas Conveyor & Equipment can custom design a wide range of stainless steel equipment for the food and beverage processing industry, including tables, push carts, and work stations.
All of our stainless steel products are fabricated to exacting quality and regulatory standards, including USDA, FDA and GFSI environments.
Constructed of high grade stainless steel with fully sealed welded seams and heavy duty, washdown components, our processing equipment exceed sanitary design requirements for use in food processing facilities and are durable enough to withstand the most demanding of uses.
Stainless Steel Hygienic Assembly Tables
Our stainless steel rectangular tables are the perfect solution for sanitary, easy to clean surfaces to compliment your existing processing operations. With their 800 lb capacities, they are constructed of high grade stainless steel. These tables are durable enough to meet the most demanding environments and are designed for easy wash down.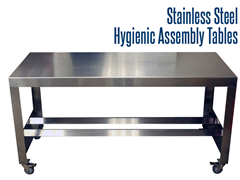 Stainless Steel Packing Table
Our stainless steel packing tables incorporate an all-purpose chute designed to manually transfer product in food production areas.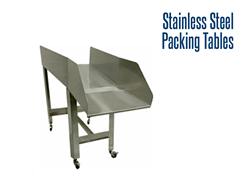 Stainless Steel Two Shelf Push Cart
Two Shelf, Stainless Steel Push Carts provide product mobility in hygienic, sanitary areas.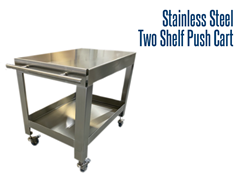 Stainless Steel Three Shelf Push Cart
Hygienic, Stainless Steel Three Shelf Push Cart, designed for transporting goods and supplies in food safe or hygienic environments.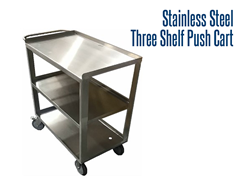 Stainless Steel Mobile Workstation
Constructed of 304 stainless steel, and electropolished to facilitate cleanliness, these workstations are designed for production areas and are completely washdown safe! They feature a slanted writing surface and lockable storage space with a latch.