Frazier Industrial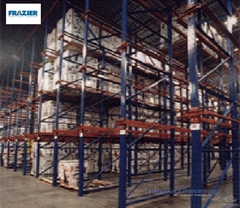 Thomas Conveyor Provides Heavy Duty Storage Racks to Create Storage Space In any Industrial Setting.
Push Back Racking is a pallet storage method that allows pallets to be stored from 2 to 6 deep on either side of an aisle, thereby storing pallet in a LIFO system.
Drive In and Drive Through Rack System for LIFO Pallet Storage.