How Does Vibration Aeration Equipment Work?
Not all material will flow freely from a hopper, storage silo, bin or other containment unit. Individual flow characteristics largely depend on the level of consistency, particle shape and amount of moisture or semi-solid matter in their content. Different solutions may be required to assist the material flow since the type of flow aid may vary from item to item and the flow aid that works well for one product may not suit another.
Thomas Conveyor carries a selection of flow promoters to suit the characteristics of various materials. We carry a wide selection of hopper discharge vibration and aeration equipment, as well as silo equipment to meet your needs.
Bin Activators
Bin Activators use gyrating motions and vibration to positively and reliably discharge granual materials from bins, silos and hoppers and eliminate bridging and rat holing caused by compacted solids.
Air Fluidizers
Air fluidizers are ideal for materials that tend to readily fluidize. They provide uniform flow and discharge of dry bulk product via aeration and hopper wall vibration. This method also prevents bridging, rat holing and compacting.
Scale Hoppers
Scale hoppers provide a source of weighing dry bulk ingredients to meet a specific weight. Ingredients are then discharged to process below.
Our pneumatic engineering team is available to answer any questions you may have. View our products below. Feel free to contact one of our pneumatics engineers or call us directly to determine which hopper and silo equipment solution will be optimal for your use.
Metalfab Standard Bin Activator / Silo Discharger
Metalfab Bin Activators are mechanical vibrating bottoms used to discharge non free flowing bulk powder solids, creating a (FIFO) first in, first out flow of dry powders from vertical industrial silos; prevents ratholing.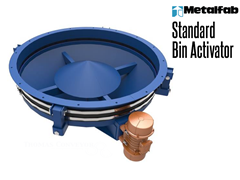 Metalfab Sanitary Bin Activator
Metalfab's sanitary bin activator incorporates all of the characteristics found in their standard bin activator with upgraded sanitary features, such as stainless steel construction, needed for food and sanitary applications.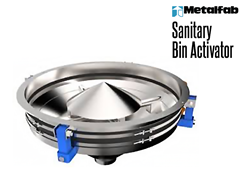 Metalfab LVT Low Vibration Transmission Bin Activator
The Metalfab LVT (Low Vibration Transmission) bin activator is ideal for situations needing a smaller sized bin activator with reduced vibration, such as sensitive scaling equipment or loss-in-weight gravimetric feeders.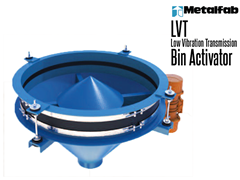 Metalfab Posibin Bin Activator
Metalfab's PB Posibin allows dry bulk solids issue-free discharge from storage silos and bins. It is designed to process difficult to handle materials such as micron-sized powders to fibrous substances, and allow these materials to flow freely, on-demand, in a FIFO (first in, first out) basis.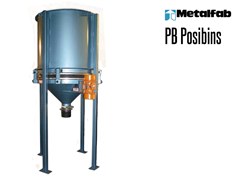 Metalfab PLBB Posibin
The Metalfab PLBB Posibin is a low vibration transmission (LVT) bin activator. The Model is based on the same principles as our standard Posibin bin activator, the PLBB uses threaded rod isolators to reduce vibration.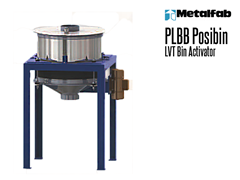 Metalfab MLB Live Bin
The Metalfab Live Bin is a round metal bin with a single baffle located directly above the exit valve. The Live Bin will propagate the continual flow of dry bulk material without bridging or ratholing.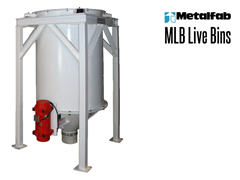 Fluidized Aeration Disc
Fluidized aeration discs are designed to intensify the discharge of aeratable products from bulk storage bins or silos by forcing air through a fabric-base layer and fluidizing the products to discharge.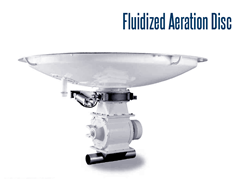 Solimar Pads / Solimar Fluidizer Disc
Solimar disc fluidizers promote the discharge of dry products from storage silos, dust collectors, weigh bins and IBC's. Solimar fluidizers provide a uniform flow of most dry bulk materials through aeration and hopper wall vibration that helps prevent bridging, ratholing and compacting.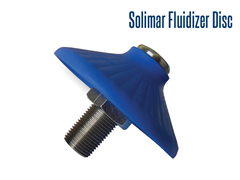 Scale Hopper Systems
Scale hoppers are typically used to measure, transport and store bulk solid materials such as flour, sugar, dextrose and starches.