Packaging Conveyors offer full automation options for moving product through the packaging process. The automation minimizes product handling, reducing the risk of damage and handling errors. To keep production flowing quickly and seamlessly, your conveyor systems and accessories need to operate at maximum efficiency. Our customized packaging solutions offer increased flexibility for a more effective production with decreased waste. The modular design of our packaging conveyors are ideal for any industry application and support future needs. They can help control product flow with the ability to merge, divert, route, and pace movement.
We offer several different lines of automation solutions to accommodate any product. Thomas Conveyor's packaging application solutions will provide you with the ability to optimize labor assets, get accurate, consistent, and safe product routing, and reduce product loss. Thomas Conveyors automation engineers are trained in designing the right, custom conveyor for all your needs using a wide variety of our conveyor products.
Thomas Conveyor products are widely used by packaging companies in a wide range of industries like metal working, material handling, manufacturing, and other non-consumable products. These engineered solutions are custom-designed to fit the unique packaging needs of any industry application. Our automation experts are trained to help configure and design custom conveyors and are here to assist you throughout the design. installation and run processes.
Case Former / Case Erector
The Wexxar WF30 Fully Automatic Case Former/Case Erector utilizes advanced technologies to reliably form and erect a square case each and every time. It is corrosion resistant and has a paint free frame construction. Model WF30 is available in tape or hot melt glue sealing.
Automated Strapping Conveyor System
Automated Strapping Conveyor Systems can be designed to meet your business's individual needs. These products are designed with quality and efficiency in mind, and can be used for a wide array of applications such as bundling newspapers and piping, sealing and reinforcing boxes and crates, packaging meat, seafood and other food products. Heavy duty steel strapping is available for bricks, blocks, paver stones, and heavy palletizing.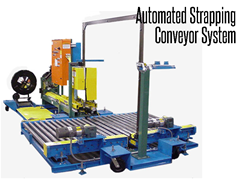 Stretch Wrapping Machines
Stretch wrappers are a must for any business wrapping more than 10-15 pallets a day. Using a stretch wrapper machine can reduce your labor cost and provide an immediate return on your investment. Stretch wrap machines can pay for themselves within months. A stretch wrap machine can free employees for other tasks and dramatically reduce stretch film usage.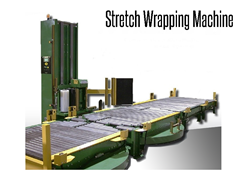 Metal Detection System with Integrated Conveyor Belt
Our custom metal detection system with integrated conveyor belt works in conjunction with our reject mechanisms to protect your product and equipment from damage.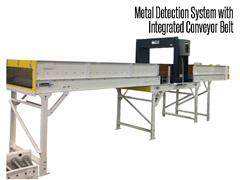 Pallet Stackers and Pallet Dispensers
Pallet stackers and pallet dispensers replace manual handling of pallets in automated material handling systems. Pallet stackers receive single pallets from any type of in-feed conveyor and load the pallet with a heavy duty electrical hoist system. Once the pallets are fully stacked, the stacker automatically discharges the stack of pallets to the out-feed conveyor.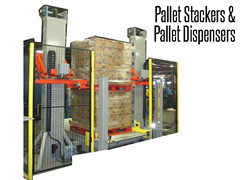 PalletPal Stretch Wrapper
The PalletPal Stretch Wrapper is an automatic, ergonomic, pallet stretch wrapper with a turntable.