Pallet Flow Rack, also known as "gravity flow," is a FIFO (first in, first out) storage system. Pallet flow rack systems are most commonly used for storing a large number of pallets of the same product or SKU. With pallet flow, you can achieve high-density storage while maintaining FIFO retrieval order. Pallet flow systems can be designed to hold up to 20 pallets deep in one lane and allow for speedy and efficient inventory retrieval. Different types of rollers, designed to serve different applications, are utilized in the design process.
Case & Carton Flow Racking, stocking of the racking is done from the back and picked (unloaded) from the front. A case flow rack or carton flow rack has several shelves, and each shelf generally has 4 or 6 lanes. Specific products are assigned to each lane. As items are picked, the next item slides down to take its place at the face of the racking. Everything works using rollers and gravity (nothing motorized). With a carton flow system, costs are kept low and efficiency is high.
The systems integrators at Thomas Conveyor are available to assist you with a custom Pallet Flow or Case Flow Racking System. We are available to help determine which system would be best for your needs. Let our experienced application engineers configure, deliver and install a complete flow racking system for you today.
Magnum Wheel Pallet Flow Racking
Magnum (Poly) Wheel Roller Pallet Flow Racking is the most durable type of pallet flow roller available. Magnum wheel rollers are ideal for pallet loads reaching over 3,000 pounds and are perfect for freezer storage applications.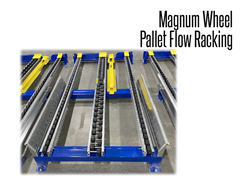 Full & Split Roller Pallet Flow Racking
Full roller pallet flow rack is the most flexible type of pallet flow racking, ideal for a variety of pallet sizes and warehousing needs. It is ideal for all Pallet Racking system types.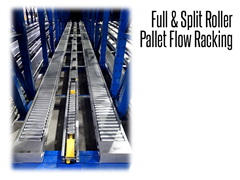 Steel Skate Wheel Pallet Flow Rack
Steel Skate Wheel Pallet Flow Rack is an economical gravity flow pallet racking. Skate wheel pallet flow racking is durable and adaptable with custom mounting accessories available.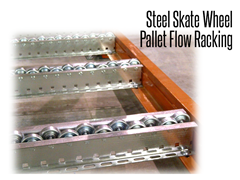 Carton Flow Pallet Racking - Consistent Carton Widths
We offer a wide variety of carton flow products, manufactured for long life usage. All of our carton flow solutions are easy to install and nearly maintenance-free.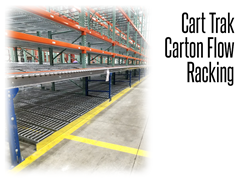 Carton Flow Pallet Racking - Varying Carton Widths
Carton flow pallet racking is an efficient, affordable solution for numerous or slower moving SKUs.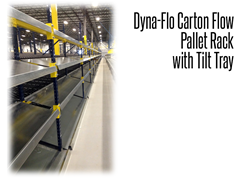 Ergo™ Series Selective Pallet Rack
The Ergo™ Series Selective Pallet Rack provides easy access to hard to reach carton on lower shelves by creating an opening between pallet locations.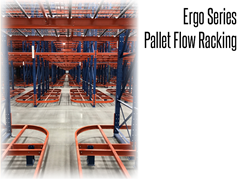 Sentinel™ Selective Pallet Rack
Sentinel™ Selective Pallet Rack is designed with structural steel, and is made to be both durable and adjustable.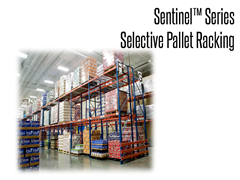 Glide In/Push Back Racking
Glide In or Push Back Racking is a patented system of enveloping, wheeled carts that glide on sloping rails.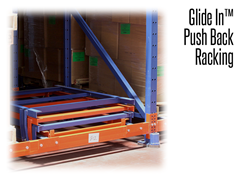 Drive In Storage Racking Systems
Drive In storage Racking systems are a space saving pallet storage option used in coolers, blast freezers, and other industrial storage applications.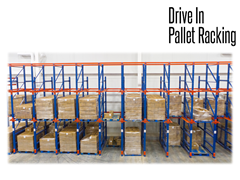 Pallet Rack Backing
All steel, back racking systems provides a secure measure of protection for employees and products.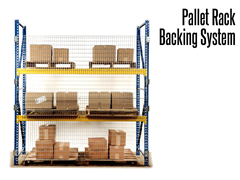 Finger Gate
Finger gates provide a protective barrier at elevated work levels, such as mezzanines or pallet racking. It is commonly found on pallet flow racks and areas where gravity fed pallets are utilized.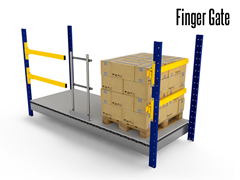 NetGate Pick Module Safety Gate
The NetGate™ Pick Module Safety Gate allows users safe access to palletized materials on elevated pick modules and rack systems.