When your cases need a stronger bond than what adhesive tape can provide, Thomas Conveyor & Equipment's selection of hot melt glue case sealers can provide a maximum seal for any case to ensure its integrity. Seal type closures can vary between the bottom seal, created by a case erector or box maker and a top seal, created by a case sealer or case taper. View our selection of hot glue case sealers below.
Benefits of Using Hot-Melt Glue and Glue Sealers
Hot melt glue is a less costly consumable than tape (packaging tape can cost 3-4 times more per carton sealed)
Glue sealants provide a stronger structural strength, crucial when packaging heavy cartons
Glue bonds are designed differently than the bonds used in tape and tape sealers, which provides a longer lasting hold over time
Appealing and easily handled, hot melt glue offers a more professional seal with no folds that can be opened without scissors
Glue sealing requires a compression step that bonds the major flap to the minor flat (with glue in between). Product backup, which is support from the product inside the case, is required for compression. Some products like bags, do not provide adequate compression.
Thomas Conveyor & Equipment can help assess your existing production and distribution process to help you determine which sealer is optimal for your use. Call us today for a complimentary evaluation.
BEL 290H High Volume Fully Automatic Hot Melt Case Sealer
The BEL 290H is a heavy duty, fully automatic hot melt case sealer designed to handle around the clock high speed applications.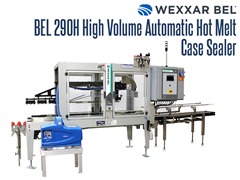 Wexxar BEL 270 Hot Melt Glue Case Sealer
The BEL 270 is an automatic uniform hot melt glue case sealer. Its compact size, quality construction and safe operating performance makes it unmatched in the industry when compared to other units.