Movomech™ Rail Systems are an aluminum rail system for large scale manufacturing, mechanical shops, and industrial companies. The rail systems are electric, pneumatic, and vacuum operated. Complete rail systems can be built through a series of suspensions and trolleys. If roof-mounting is unavailable, the Movomech™ line can be mounted into the ceiling.
The Movomech Rail system has a wide variety of end effectors/tooling/manipulators available to completely customize the rail system to your particular needs. We do offer several rail packages shown below. Custom options are always available.
For more information on the Movomech™ Rail System please contact a Thomas Conveyor & Equipment automation engineer at 844 220 0086 or click on the Contact Us button above.
Mechrail™ Aluminum Crane System
The Mechrail™ is a ceiling mounted crane/rail system capable of handling heavy loads with ease! It is fully customizable with a variety of end effectors/attachments which provide solutions for warehouse and manufacturing facilities of all types.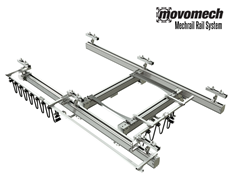 Movomech Mechbelt™
The Mechbelt™is a smart, belt driven linear unit for 1, 2 or 3 axle linear drive movements up to a length of 45' in both horizontal and vertical directions.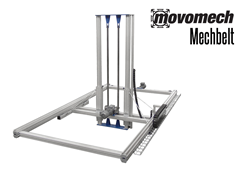 Movomech Powerdrive™
When heavy loads need to be kept in motion, or when movement is needed over large work areas, the Mechrail™ crane system can be advantageously fitted with Powerdrive drive units.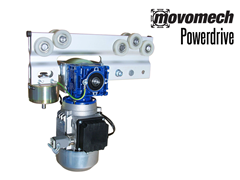 Movomech Mechlift E (Electric)
The MechLift E is an electric ergonomic lift designed to be used with Mechrail aluminum rail systems. Mechlift Pro E is a lightweight, ergonomically designed momentum absorbing lifter that has a stepless frequency steered lifting speed controlled by joystick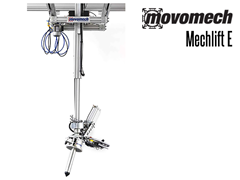 Movomech Mechlift P (Pneumatic)
Pneumatic Mechlift Pro™ is a versatile pneumatic moment-absorbing industrial mani­pu­lator suitable for many types of lifting for loads of up to 330 lbs.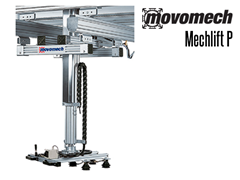 Movomech Mechline Pro™
The Mechline Pro is an ergonomic balancer with a pneumatic lifting wire for light loads of up to 110 lbs.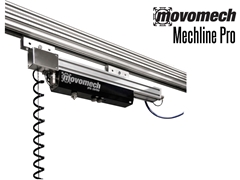 Movomech Mechlight Pro
The Mechlight Pro is a pneumatic powered, lightweight ergonomic lifter that can handle up to 110 lbs. It has a variety of end effectors which allows for multi-functionality with the unit.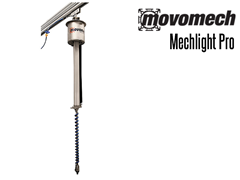 Movomech Mechspace™ Pro
The Mechspace™ Pro is a pneumatic, momentum absorbing, ergonomic lifter for applications needing an extensive range of movement.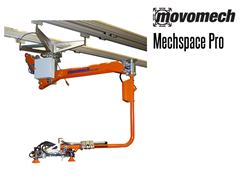 Movomech Mechstick™
Mechstick™ is a momentum absorbing manipulator used for handling and stacking loads. The Mechstick™ can handle and stack loads up to 110/154 pounds (electric or pneumatic versions).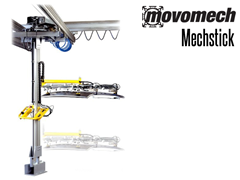 Movomech Mechstack Pro™
Mechstack Pro™ is a strong, electrically powered industrial lifting manipulator for efficient material handling and for stacking loads of up to 1400 lbs. Typical applications for the Mechstack Pro™ are the stacking of heavy or bulky items onto pallets or pallet storage, and the collection and delivery of items at material depots.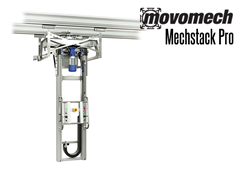 Movomech Mechchain Pro
The Mechchain is an ergonomic frequency controlled chain hoist used for professional lifting, moving, rotation, positioning and loading. It has the lowest ceiling height on the market, enabling installation into tight spaces.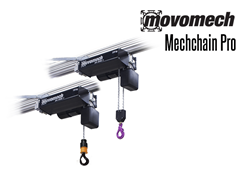 RonI Mechglass Rail System
The RonI Mechrail™ Mechglass is a ceiling mounted rail system composed of light weight aluminum extruded components complemented by a glass handling end effector that uses suction cups to allow the operator to safely and easily lift, transport, and rotate (120°) large pieces of glass.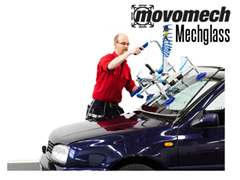 End Effectors / Attachments for Ergonomic Lifters
The Movomech™/RonI™ line of ergonomic lifters has a wide variety of standard end effectors, attachments, tooling and manipulators.