Wire Mesh Belt Conveyors are the industry choice for conveying hot, oily or dirty items; and for drying or cooling products.
Wire mesh applications include:
Parts handling
Cooling
Forging
Bulk Material Handling
Casting and
Transfer of Hot or Cold Items from Ovens or Freezers
Contact us to speak with one of our automation engineering specialists to determine which Wire Mesh Belt Conveyor is right for you.
Wire Mesh Belt Conveyor, Roach Model 700SBW
The Model 700SBW Wire Mesh Belt Conveyor can be used in a variety of conditions to convey hot, cold, oily, or dirty products. It can also be used in washing/drying applications.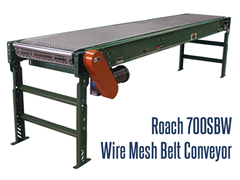 Open Bed Style Wire Mesh Belt Conveyor, Roach Model 700SBO
The Model 700SBO features a wire mesh bed that allows air or various sprays to permeate through the belt to accommodate spraying or drying applications.