This conveying solution for your sortation system is influenced by the product, weights, sizes, shapes and packages that need to be handled. The throughput rate is also considered. Today, there is a greater variability in what needs to be handled considering the growth of e-commerce, which uses more small polybags as well as larger, odd shaped items.
Thomas Conveyor has decades of experience helping companies evaluate their operations to find the ideal sortation solution! Incorporating the NBC Belt Drive Roller Conveyor, Cruz Belt Conveyor, Motorized Driven Roller Conveyor, or one of the many other options available to your Sortation System will require a new level of automated sortation accuracy and reliability. Contact one of our application engineers today!
NBC Belt Driven Roller Conveyor
The NBC Belt driven Roller Conveyor can be configured into a variable-pressure contact accumulation and transportation conveyor using all the same frame and drive components.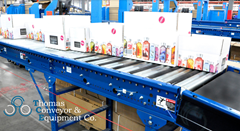 Cruz Belt Conveyor
The Cruz Belt Conveyor provides continuous support for items that would not ordinarily convey well on a live roller conveyor.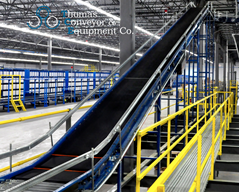 IntelliROL Motorized Roller Conveyor
Incorporating a 24V DC brushless motor contained within its roller, the IntelliROL Motorized Roller Conveyor moves product from zone to zone with no backpressure.