Movomech™/RonI™ jib cranes are a modular system, offering flexibility, mobility and ergonomic lifting up to 185 lbs.
The Movomech™/RonI™ jib cranes have a wide variety of end effectors/tooling/manipulators available to completely customize the crane to your particular needs. Custom options are always available.
For more information on the Movomech™ jib crane line or for information on a custom ergonomic lifting solution, please contact a Thomas Conveyor & Equipment Automation Engineer at 800 220 0086 or click on the Contact Us button above.
Mechline Pro Crane™
The Mechline Pro Crane™ is an articulated jib crane with an integrated pneumatic balancer.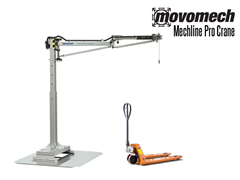 MOBI-Arm™ Ergonomic Articulated Jib Crane
The MOBI-Arm™ is a mobile articulating arm crane that has a wide variety of end effectors/tooling options. It has a reach of up to 13' and a height adjustable floor pillar.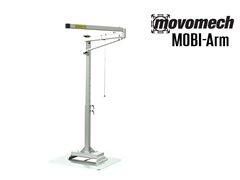 Vacuhand Pro Crane™
The Vacuhand Pro Crane™ combines the Mechline Pro Crane™ and the Vacuhand Tube Lifter. giving you a complete stand-alone lifting solution for fast and easy ergonomic lifting.
Mechchain Automated Material Handling Products & Solutions
The Mechchain is a chain hoist that can either be suspended from a jib or bridge crane system. It has the lowest ceiling height on the market, enabling installation into cramped spaces.
End Effectors / Attachments for Ergonomic Lifters
The Movomech™/RonI™ line of ergonomic lifters has a wide variety of standard end effectors, attachments, tooling and manipulators.