Built to follow a path where the conveyor track and load handling takes place over the work areas, overhead conveyor systems allow warehouses and manufacturing plants to maximize the working space by freeing up vital floor space. The enclosed, inverted, and I-beam monorail conveyor tracks can follow almost any path needed with their ability to change both vertical and horizontal direction and are designed for ease of installation and modification.
Overhead Conveyor Features:
| | |
| --- | --- |
| Multiple track sizes | Flexible mounting systems |
| Economical with minimal maintenance | Heavy duty tracks for large load capacities |
| Safe-rail solutions reduce product damage and minimize wasted space | Manual and gravity fed carriers |
Overhead Conveyor System and Pacline Overhead Conveyor Systems are available for purchase from Thomas Conveyor and Equipment Company, Inc. Speak with a systems integrator to start designing your conveyor system today!



Safe-Rail™ Monorail Enclosed Track Conveyor
Used when you need to accommodate space in your warehouse or building. Overhead conveyor systems hang from the ceiling, which requires special mounting equipment and attention to load capacities. This conveyor can be modified at any time after installation and provides efficiency for your business.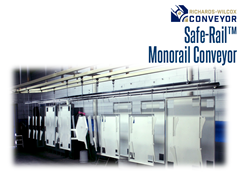 Zig-Zag™ Monorail Enclosed Track Conveyor
Continues to be the industry standard in overhead conveyance. The Zig-Zag™ conveyor solves a variety of manufacturing problems and requires little maintenance.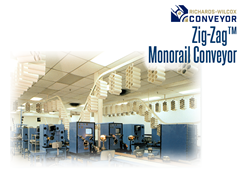 Paintline™ Inverted Zig-Zag™ Monorail Conveyor
Inverted Zig Zag™/PaintLineTM Conveyor Systems combine reliable, clean conveyor operation with the vertical flexibility made possible through the unique design of their inverted pendants.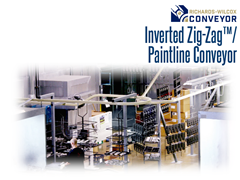 OveR-Way™ Heavy Duty Power and Free Conveyor
OveR-Way™ conveyors provide a high capacity solution for storing and transporting parts. The equipment also allows operations to adjust production rates and minimize lead times.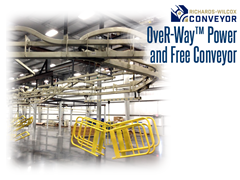 Twin-Trak® Side by Side Conveyor by Richards-Wilcox
The Twin-Trak™Side by Side Conveyor brings unlimited power to limited spaces; with its side by side configuration. it provides a space saving, dual track system ideal for medium to high capacity needs with limited overhead space.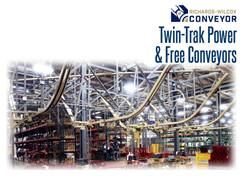 OveR-Way™ Inverted Floor Mounted Conveyor
OveR-Way™ Inverted Conveyors offer an ideal medium-capacity solution for applications where cleanliness and/or robotic interfaces are a major requirement.