By Clint Yonkers
Project Engineer
Thomas Conveyor & Equipment Co
Recently, Thomas Conveyor & Equipment Company was approached by a senior project engineer/manager working for a nationwide hazardous medical waste disposer. This particular application takes place in a facility located in Northwest Indiana. They needed assistance with an ergonomic handling problem.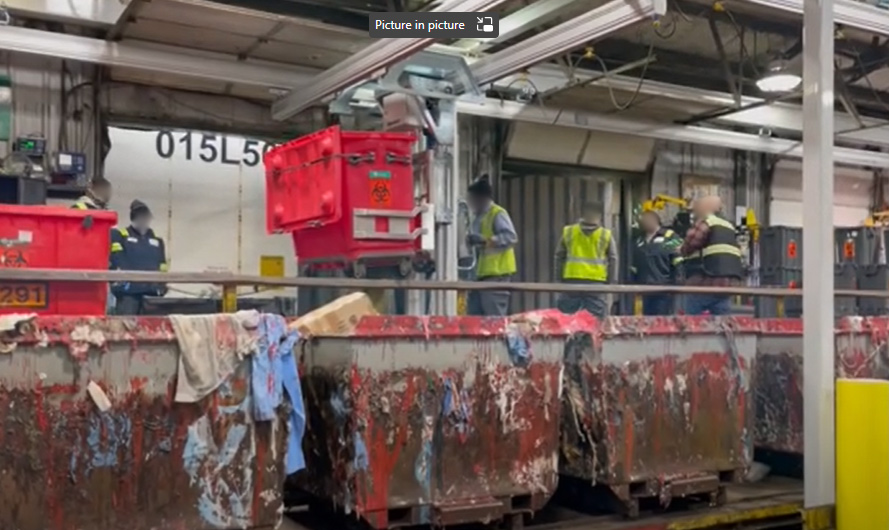 Typically, hazardous medical waste is deposited in supplied containers located in hospitals, outpatient clinics, doctors' offices and so on. These are then picked up, collected, and transported to the collection site. This waste is then processed preparing it for safe and proper disposal.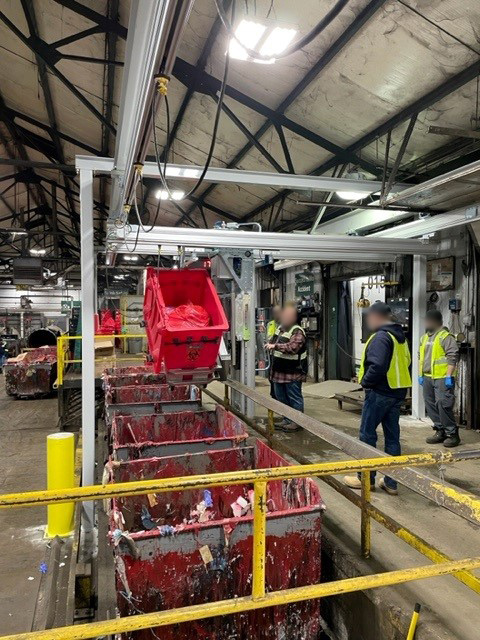 Because this industry is ever changing and looking for continuous improvement opportunities, the decision was made to use a range of larger containers. Depending on the need, sizes varied. These new plastic waste containers are sized at approximately 32"x 23" x 40" tall to 30" x 50" x 40" tall. Weights have now increased from 200 to 400 lbs. per container. This has put the processor in a position where they could no longer handle these containers safely using the current manual methods at their site.
The challenge here was to develop a flexible lift assist system which would be able to grab the outside of the container, squeeze it, lift, and then rotate 360 degrees to dispense the contents into large open hoppers. To compound the complexity of this application, the entire operation takes place on a very narrow elevated dock area.
The solution was to recommend our MechLift unit suspended from a free-standing bridge crane arrangement measuring 14'-0" wide x 35'-0" long. This ergonomic lift/rotate assist handler allowed their operators to pick up and dump the waste containers once they've been removed from a transport trailer and queued in the dock area under the bridge structure.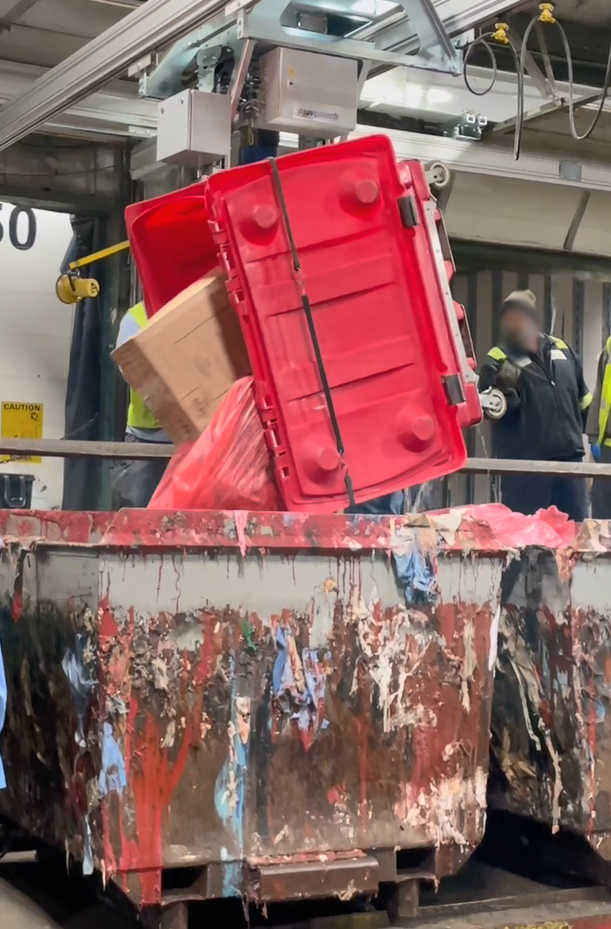 The operation of the unit is simple. Once a container has been identified for dumping an operator grabs on to the MechLift unit and manually moves it towards and positions the end effector tooling around it. Then the tooling, which is electrically driven, is engaged by hitting a button to activate the closing feature whereby grasping and holding the outside of the container. Next, the operator hits another button that is power driven, and the container is lifted. The lift assist mechanism, which is suspended under the bridge crane, is manually pushed to the proper location for dispensing. Once positioned correctly the operator uses a joystick to activate the rotation feature. This is also powered electrically. When these actions are completed, the cycle then repeats or the unit is set aside waiting for the next lift.
Pictures and supplied video demonstrate the use in the field.
Thomas Conveyor & Equipment Company is an authorized and factory trained distributor of MechLift ergonomic assist handlers. As described above, these systems are specifically designed and manufactured to suit each application no matter how stringent. They are lightweight and precision built featuring a manual transverse and powered operated lift/rotate features. Each unit can be supplied with customized tooling allowing a host of different methods for grasping, lifting, turning, and rotating.
The next time you encounter an impossible product handling application contact Thomas Conveyor & Equipment Company for the right solution. Our systems integrators have the expertise to help you with your ergonomic lifting application.
Contact Thomas Conveyor & Equipment for all your storage and material handling projects. Call us today at 844-220-0086.