By Jeff Bollman
Project Engineer
Thomas Conveyor & Equipment Co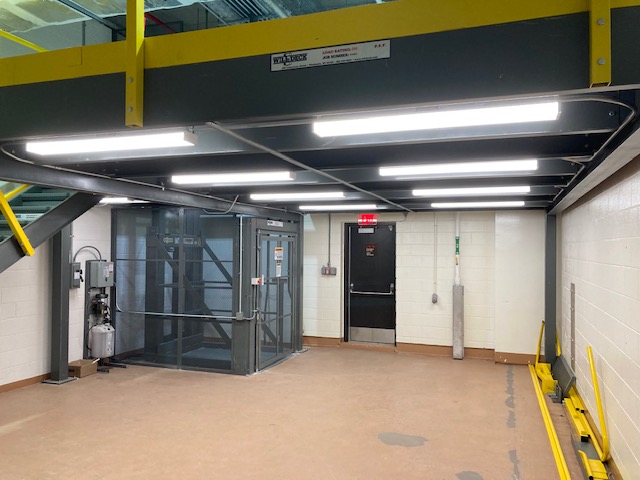 A major Biopharmaceutical Company approached Thomas Conveyor & Equipment Company to provide a storage solution in one of their laboratory equipment facilities. They were looking for a cost effective, safe and easy way to move and store mobile lab equipment.
The solution was a combination of a Wildeck mezzanine and vertical reciprocating conveyor (VRC) which is designed for the transfer of material only from one level to another.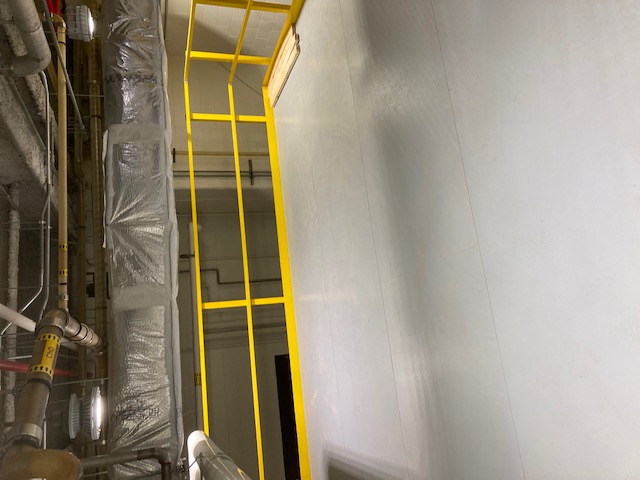 The mezzanine was designed with a capacity of 250 lbs. PSF as some of the equipment was quite heavy. The deck surface, a smooth finished resin board so equipment could be easily and safely be rolled into place. Roof deck underside was painted white to reflect light and brighten the area under the mezzanine. Mezzanine included handrails, kick plates and IBC approved stairs.
The VRC was a hydraulic cantilever model to maximize space with a capacity of 2,500 lbs. The VRC was designed with a low profile carriage, so no need to cut/build a pit or use a ramp that would take up valuable floor space and cause a possible "tripping" hazard. A small transition plate at the lower level allows a cart or equipment to be wheeled easily onto the carriage. VRC also included bi-parting swing gates with electro-mechanical locks and contacts at both levels and fully enclosed panels for added safety.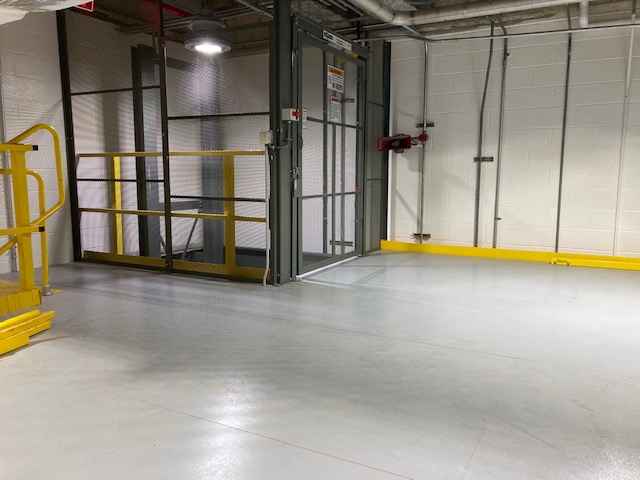 Thomas Conveyor & Equipment provided all the design, approval drawings, PE sealed drawings and structural drawings along with complete mechanical and electrical installation. Truly a one-stop shop.
Contact Thomas Conveyor & Equipment for all your storage and material handling projects. Call us today at 844-220-0086.