By Clint Yonkers
Ergonomic Automation Engineer
Thomas Conveyor & Equipment Co.
Thomas Conveyor & Equipment Company was recently approached by a department manager working for a large laminator/holographic manufacturer located in the greater Chicagoland area. They needed assistance with an ergonomic handling problem for changing out impression rolls on their laminating machines.
A Thomas Conveyor Ergonomic Engineer visiting their location to provide a consultation and solution assessment; based on the valuation findings he designed a custom ergonomic unit that could facilitate use on multiple machines.
One of the ergonomic challenges presented was that the unit had to enter the process machines sideways with limited headroom. This required the ergonomic unit to have very short legs and lifting masts.

The task involved was directed semi-annually, but it is very difficult and dangerous to employees. It involves removing a large roll from inside a rigid machine frame which is recessed 40" from the initial machine opening. The roll itself is 8" in diameter x 43" long and weighs 350 lbs.
The client required a device:
Which could fit within the machine frame with the restricted headroom

Telescope a very thin platform under the roll

Lift it slightly

Retract it back to the platform

Lower the roll and finally

Pull away the lifter, platform, and roll all at the same time.


Please keep in mind, this is a simplified and abbreviated explanation. The process is actually quite tedious and is repeated several times because the clearances are so tight and there are various obstructions. However, at no point during the entire process is an operator exposed to any dangerous conditions. With the new and improved ergonomic solution, they are no longer required to be under or around the roll during a change sequence.
In conclusion, the modified lifter solution was able to roll up to and under the customer's machine. The platform is able to extend and retract, all while in the lowest vertical position on the mast. The lifter was outfitted with multiple counterweights due to the legs being very short, and the load located on the outmost area of the lifter's leg load center. This custom lifter/lifting solution encompasses our traditional lifter technology, all while maintaining a very small footprint.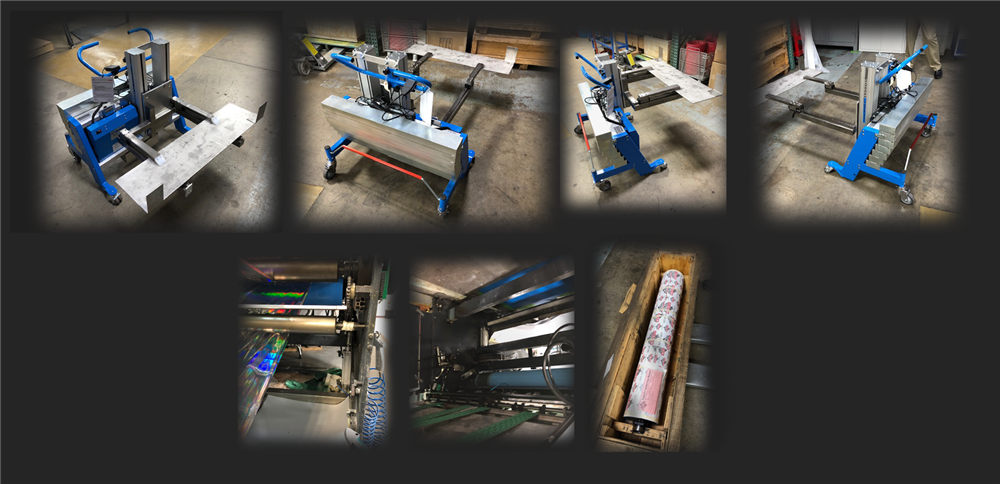 Thomas Conveyor & Equipment Company is an authorized and factory-trained distributor of Lift-O-Flex™ ergonomic lifters. As described above, these lifters are specifically designed and manufactured to suit each application no matter how stringent. They are lightweight and precision-built, featuring a manual transverse and battery-operated lift feature. Each lifter can be supplied with customized tooling allowing a host of different methods for grasping, lifting, turning, and rotating.
A manual foot-operated, three-position central brake system allows for the rear casters to be set at either a freewheeling swivel or locked for single directional travel. These lifters are available in the standard powder coated/aluminum anodized construction or in stainless steel wipe or washdown versions.
The next time you encounter an impossible product handling application contact Thomas Conveyor & Equipment Co. for a customized solution. Our Ergonomic Engineers and Automation Engineers have the expertise to help you with your ergonomic lifting application.