By Tim Knerr
Project Engineer
Thomas Conveyor & Equipment Co
Thomas Conveyor completed a project for one of our Food Processing Partners which involved a packing line where a Hygienic/Wash-down Conveyor was needed to build a custom Pack Station Line. The goal of this line was to allow workers to pack individually bagged product into different sized cases to be sent down to a taper. The boxes would then be coded, labeled, and conveyed to a palletizing line to be prepared for shipment.
Designing the Pack Station Conveyor involved having a two-level tiered conveyor which would convey the individually bagged product on top and the different sized cases below. Different sized cases brought about the need to be able to adjust the elevation on the lower-level conveyor to allow workers to ergonomically place cases on the top of the conveyor belt. We accomplished this by installing a hand wheel crank on the underside of the pack station which would allow workers to raise/lower the unit as needed. An adapter option was also implemented where workers could detach the crank wheel and utilize a cordless drill which would vastly improve the speed at which this conveyor elevation could be raised or lowered.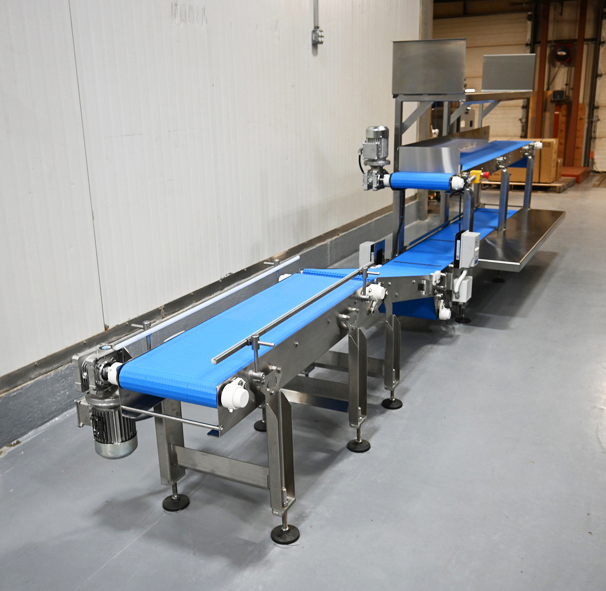 Our final addition to this pack station was Stainless Steel Shelving, both on top of the upper conveyor for pre-erected case storage, and a shelving unit in front of the workers to support newly erected cases the workers were utilizing to pack the bagged product inside. These shelving units were designed to be easily separated in case the units were moved to different parts of the facility.
The customer was very pleased with the equipment and is currently using the stations in their facility. These sort types of Pack Stations can be utilized by any potential customer with who has a need for workers to pack incoming product into cases without leaving their station and without any ergonomic lifting/placing issues at their station.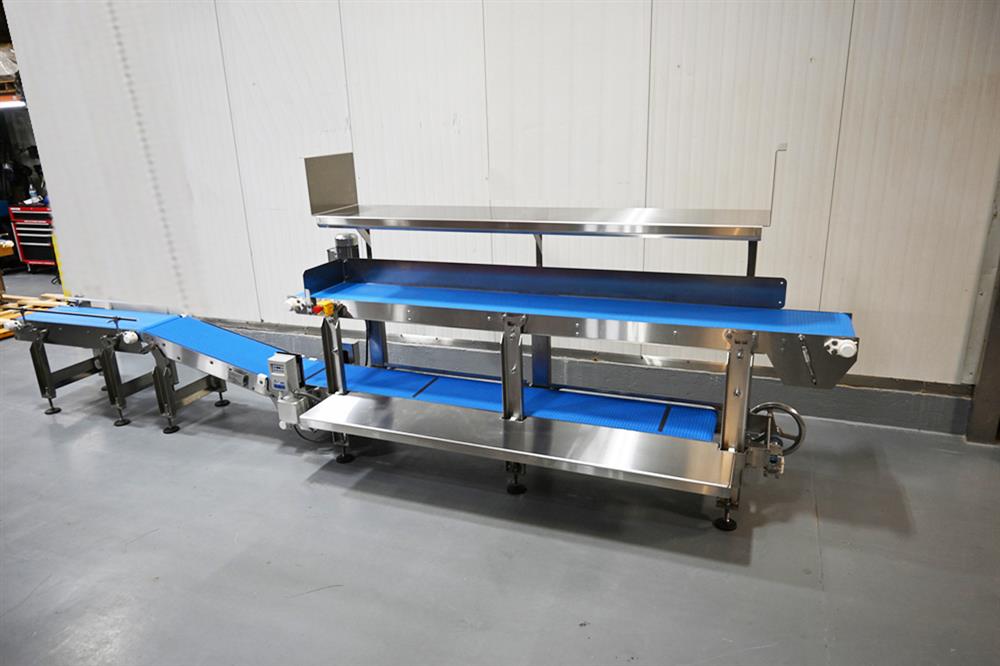 The next time you encounter an impossible product handling application contact Thomas Conveyor & Equipment Company for the right solution. Our systems integrators have the expertise to help you with your food processing conveyor.
Contact Thomas Conveyor & Equipment for all your storage and material handling projects. Call us today at 844-220-0086.