Thomas Conveyor & Equipment is a leader in providing robotic material handling solutions customized to fit your application. Robotic automation can maximize productivity, reduce costs and streamline operations.
Benefits
Material handling robots expand capabilities and adapt to changing needs
Improve quality assurance and consistency with automated robotic handling
Robotic systems increase delivery speed and keep prices low
For more information about robotic material handling and automation, contact a Thomas Conveyor & Equipment automation engineer to learn more.
High Speed and Heavy Payload Robot, Yaskawa GP225
The Yaskawa GP225 is engineered for heavy-duty material handling applications, and designed to reduce interference in high-density system integration.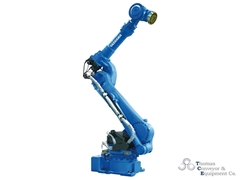 High Speed Assembly and Handling Robot, Yaskawa GP8
The Yaskawa GP8 robot pairs compact design with high-speed efficiency, making it ideal for fast-paced assembly, material handling and packaging system solutions.