Warehouse and factory traffic safety products protect your employees from injury. Thomas Conveyor partners with Wildeck and "Save" Ty Yellow Products, leading producers of facility asset protection and safety products used in manufacturing, distribution centers and warehousing facilities.
Wildeck protective barriers are tested, trusted and tough! Proven in thousands of applications and facilities, they provide an effective easy-to-see barrier that contributes to a safer and more efficient working environment.
Save Ty Yellow designs products to reduce the overall cost including installation and takes the approach to be a solution provider, offering several models for each product line giving you a choice when designing your facility, including custom applications.
Stand Guard™ Guard Rail "Save"Ty Yellow Products
"Save"ty Yellow offers the Stand Guard™ guard rail line, a variety of industrial guard rail designed to protect people, facilities, vehicles and products.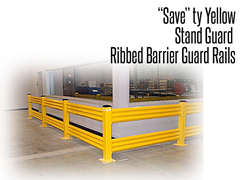 Collision Awareness Sensor Alert Warning Systems
The "Save"ty Yellow collision awareness product line alerts pedestrians and forklift drivers of potentially hazardous locations and situations.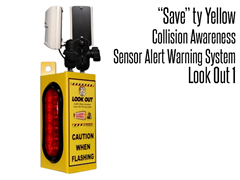 Steel Guard Rail Systems
Thomas Conveyor offers three levels of industrial steel guard rail, providing three levels of protective coverage based on your facility needs.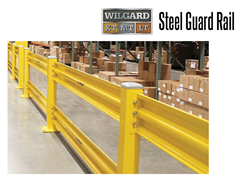 JiffyRail Platform Guard Rail
The easy to install JiffyRail™ guard rail system guards open, exposed areas on mezzanine platforms and other elevated surfaces. It will help to eliminate fall hazards by providing strong, sturdy barrier protection.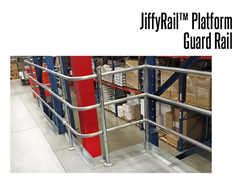 Modular Mezzanine Railing Systems
Modular railing systems are designed to clearly define pedestrian walkways, loading docks, production areas, and assembly lines. They increase the safety and operational efficiency of a mezzanine system while conforming to OSHA/IBC guidelines.