By Tim Knerr
Project Engineer
Thomas Conveyor & Equipment Co
A project was brought to Thomas Conveyor requiring a security enclosure around precious material that the customer required be locked at all times unless accessed by internal personnel. The design would include ceiling high panel walls and a door on either side of the enclosure. Both doors would need to be able to lock/unlock with a standard cylinder lock which would give only authorized personnel access to this area.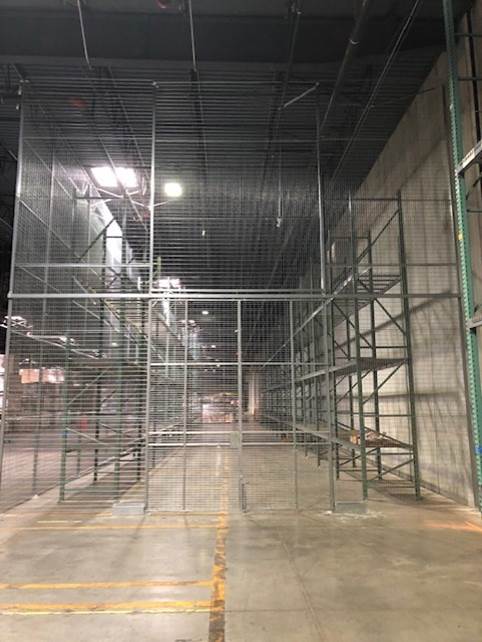 Our design for the ceiling high fence panels allowed us to tie into the building's ceiling joists as a top anchor that allowed us to control sway and maximize our wall stability. This gave the customer the exact height requirement they had asked for without requiring an extra large baseplate for each of our fence posts.
Our doorways included (1) single pedestrian door with a custom push bar exit and (1) double wide vehicle door which allows forklifts to enter our secured area to load and unload material on the rack structure inside the secured cage area.
In the end, the customer was very satisfied with their new Secured Product Cage. The material is safe under lock and key, and all authorized personnel are able to easily access the area when needed.
Please contact our team regarding any questions or future projects requiring security cage or fencing.