Thomas Conveyor & Equipment can provide a variety of stainless steel access components designed to allow for easier accessibility to elevated platorms, mezzanines, structures and components found in manufacturing and warehouse areas.
All of our stainless steel products are fabricated to withstand arduous regulatory standards, including OSHA, USDA, FDA and GFSI environments.
Our equipment exceeds sanitary design requirements for use in food processing facilities and are constructed with high grade stainless steel and fully welded, sealed seams.
Food Grade Stainless Steel 2 Step Elevated Platforms
Our industrial stainless steel 2 step work platform is an ideal addition to areas needing easy access to elevated work areas.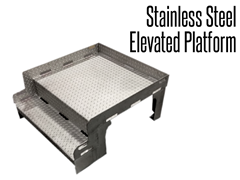 Food Grade Stainless Steel Ladder Platform
Our industrial stainless steel ladder platform is designed to provide employees with a safe, useable work space providing less fatigue, allowing for more comfortable working heights and better footing than a stand alone ladder.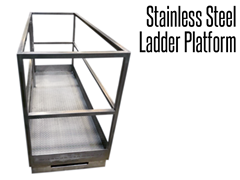 Stainless Steel Elevated Work Platform
Stainless steel elevated work platforms provide a segway for employees to access and move up or over machinery, equipment, conveyors work zones and other obstacles found in processing plants and warehouses.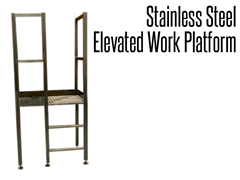 Stainless Steel Ladder Caging
Stainless steel safety cage fixed ladders provide the level of safety needed to meet OSHA safety standards, while providing wash down capabilities needed in many food and pharmaceutical processing facilities.